Water Quality Association WQA
The Water Quality Association universally called WQA, is an international trade association representing the residential, commercial and industrial water treatment industry. WQA is a non profit Association which works for the betterment of the water treatment industry by looking after the concerns of consumers, government departments, manufacturers and traders in the water treatment Industry.
WQA is also an American National Standards Institute (ANSI)-accredited certification body like NSF International, Underwriters Laboratories - UL, etc. WQA can certify any product that comes into contact with drinking water, like pipes, fittings, faucets, water filters and water purifiers. Internationally the NSF/ANSI 60 or NSF/ANSI 61 standards are recognised as one of the most stringent standards for any equipment for use with drinking water. The World Health Organisation WHO accepts NSF/ANSI 60 or NSF/ANSI 61 certification issued from an ANSI accredited certification body like WQA.
WQA Gold Seal Product Certification Program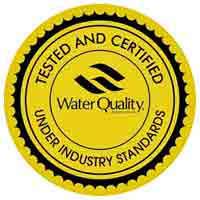 The Water Quality Association's Gold Seal Product Certification Program is a unique testing and certification program that tests rigorously the quality of a product from all aspects like delivering promised benefits, longevity of the product and its working life, aesthetics, etc. The WQA Gold Seal has been a 'Mark of Excellence' since 1959.
Once a product has passed the testing in WQA's most upto date sophisticated laboratories, then it can display the WQA Gold Seal as shown on the right. Products that display the Water Quality Association's Gold Seal provide assurance to consumers that these certified products have been rigorously tested and meet the requirements of the NSF/ANSI standards.
All products with the WQA Gold Seal are listed on the WQA website and it is possible for anyone to look it up on this web page link
NSF International
NSF or the National Sanitation foundation with their website www.NSF.org (should not be confused with the National Science Foundation with the website www.NSF.gov) was formed in 1944 as an independent, not-for-profit organization with the aim of making the world a safer place for consumers.
For a complete list of NSF-certified drinking water treatment products, visit this web site
Why buy NSF or WQA certified water filter purifiers
Testing and certification of water purifiers by these prestigious institutions of WQA and NSF is good for consumers of water purifiers, because we can be sure that the certified products that we are buying will actually work as claimed by the manufacturers. It is not easy for us consumers to know whether or not a particular water purifier will actually work and be as safe and effective as the manufacturer claims at reducing various contaminants from the water supply.
Both WQA and NSF have the most upto date and complete lab facilities to test water purifiers. Once a water purifier is tested and certified by WQA or NSF, you can buy it with full confidence. Both WQA and NSF maintain websites where they list the water filter purifiers that have been certified by them. Links to WQA website with WQA certified water purifiers and the NSF website with NSF certified water purifiers
Best way to buy Water Purifiers in India
The best way to buy Water Purifiers in India is to first look at all models of Water Purifiers available online at the leading online Retailers in India. For example on the online webpage of All Water Purifiers available in India on Amazon.in, you will find the full range of Indian Water Purifiers complete with their best discounted price and full specifications. This is great information, and you can decide on which model of water purifier to buy. With the model of water purifier you want to buy finalised, you can go to local shops to try and find the model of water purifier you have chosen and see if you can get at similar price of that at Amazon.in. In most cases the price from Amazon will be cheaper, because they buy in bulk from the manufacturers direct and they sell huge volumes because they are the world's largest and most trusted online retailer. If you buy from Amazon, they will arrange to have the water purifier installed in your house, usually free of charge.
Warranty and other facilities offered through Amazon are usually better than what you can get from local agents of water purifiers.
Below are links to all the pages on this website and we hope you will make full use of all the great information about Indian Water Purifiers provided here.